• refresh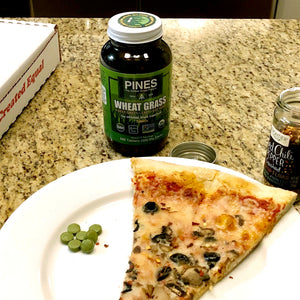 Isaac loves🍕but his dad knows pizza provides very little fiber, is not prebiotic and lacks dark green vegetable roughage for a healthy colon. Healthy colons utilize probiotic bacteria. These helpful microorganisms thrive on prebiotic food such as whole food dark green vegetables. Isaac's dad wants his son to be healthy, so he made a deal with him. Isaac can have🍕as long as he consumes a seven-tablet serving of Pines Wheat Grass. Pines tablets expand to twelve times their size when mixed with food and liquids. By adding a serving of Pines, Isaac is consuming the whole food dark green vegetable...
---
• refresh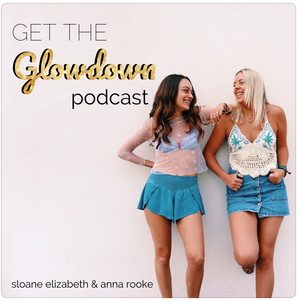 Influencers Sloane Elizabeth and Anne Rooke from "Get The Glowdown" Podcast just interviewed Pines Co-Founder Ron Seibold about the "Magic of WheatGrass." You can find the podcast here. The podcast discusses everything from how Pines goes the extra mile in its non-GMO, Certified Organic farming practices (no irrigation), to explaining the health benefits of wheatgrass. Seibold explains why wheatgrass shots are not a good idea and why. He also gives a complete history of wheatgrass and how Pines is uniquely tied to the Father of the World's First Multivitamin, Dr. Schnabel, whose original lab is located on Pines property today in Lawrence, Kansas. Using commercially dehydrated...
---
• refresh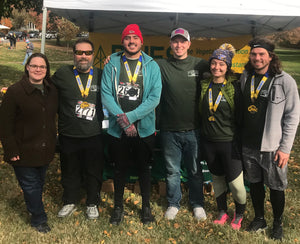 Pines was proud to sponsor the Kansas Half Marathon & 5k event in its 12th year in Lawrence, Kansas, which is a city near the farm where Pines and our predecessor company have grown wheatgrass and other green super foods starting in 1932. Skyler, our Operations Manager, and Kelli, our Events and Materials Manager, handed out bottles of Pines Wheat Grass to race participants. Jason, our Packaging and Shipping Manager, and Antonio, our Milling and Tableting Specialist, ran the race wearing Pines t-shirts. They were not alone. Other friends of Pines wore t-shirts and also participated in the race.  ...
---
• refresh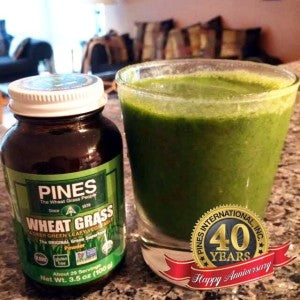 Laura is a happy goddess. Laura's @happygoddess0428 Instagram pictures are about love, peace and nature. Others like this one emphasize eating plenty of dark green leafy vegetables.  You can mix Pines Wheat Grass‬ powder with water, juice or a smoothie‬ for green nutrition and essential vegetable‬ fiber. Laura also uses tablets as a convenient alternative. Why You Should Eat More Greens Nine out of 10 people do not eat enough whole food‬ greens.‪ ‬ Pines Wheat Grass, Mighty Greens, Green Duo and our other green superfoods‬ are convenient and economical ways to increase whole food vegetable nutrition in diets. As the original green superfood...
---
• refresh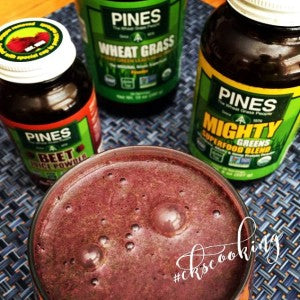 Instagram user and health consultant @ckscooking says: "Shake on the run and a product shout out to @wheatgrass_people for their superior nutrition. Their products makes my day EVERY DAY! Mighty Greens before workout, wheatgrass and beet juice powder in my shake after!" CK's Role as a Consultant for Exercise & Nutrition CK is a consultant for Pampered Chef®. She uses food and fellowship to make a difference. She helps people make good choices with real food, health, and great kitchen tools! Check out @ckscooking on Instagram and Twitter for more of her recipes. You will also find some of her...