• refresh
When Pines invented the term "green superfood" forty years ago, we used it to describe wheat and barley grasses that were first grown on our farm in 1932 for scientific research.   When grown in accordance with that research, these cereal grasses are only harvested during several days once each year at the point of maximum nutrition. At that stage, these young plants provide much more nutrient density than other greens. That's why we call them green superfoods.   Because of our success, other companies now also use our term "superfoods" to describe blends of products that may contain some...
---
• refresh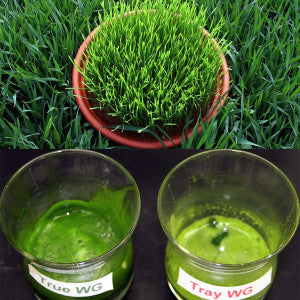 Wheat Grass is the young wheat plant, grown under optimum conditions, carefully harvested at it's nutritional maximum, dehydrated, and bottled for your convenience. Not all Wheat Grass is made equal.  Only the best wheat grass has been certified 100% organic, Non-GMO and gluten free likes Pines Products.  Pines International helped write the organic standards in the state of Kansas in the 1980s which was used in developing the national organic standards.  Tray Wheatgrass or True Wheatgrass? To the right is a picture of a round tray of wheatgrass in a field of true wheatgrass. Clearly, there are major differences between...
---
• refresh
For children and those who have difficulty swallowing tablets, we have developed this outstanding green superfood blend so that six Green Duo Caps provide the nutrition of a full sized salad made from spinach or kale. Green Duo Caps are a blend of WheatGrass and Alfalfa Both are Certified Organic Pines grows both the Non-GMO Project Verified wheatgrass and alfalfa, the WORLD'S FIRST alfalfa to carry that logo! As the the original green superfood producer, our farmers grow the ONLY 100% organic whole food wheatgrass and alfalfa from Kansas. The Most Nutrient-Dense Green Superfood Grown and harvested as we do, Green...
---
• refresh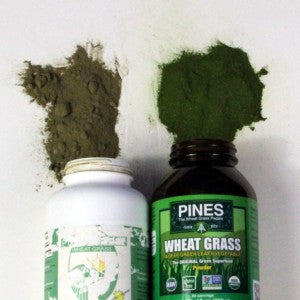 For more than 80 years, quality green brands utilized a process that removed oxygen from amber glass bottles. That process requires special metal caps to seal the oxygen-free atmosphere.  This kept green products fresh and vibrant with a bright color.  Today, most companies package in plastic, which allows for the greens to lose value and color.  Only Pines continues using removed oxygen from glass bottles with special metal caps to keep our products vibrant and fresh. Removing Oxygen from Containers Extends Freshness We need oxygen.  It is essential for life.  That's because our bodies use it to convert food into...
---
• refresh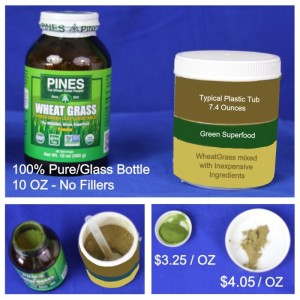 The glass bottle provides 10 ounces of Pines Wheat Grass at a suggested retail price of $32.50. Plastic tubs like the one shown provide 7.4 ounces of wheat grass at a suggested retail price of $29.99. Both products are frequently on sale for less than the suggested retail price. Plastic tubs creates an illusion for some consumers that they provide about the same quantity as glass bottles. Consumers falsely believe they are saving money because the tub costs about $2.50 less than the glass bottle. The net weight is 7.4 ounces for the plastic tub. It is 10 ounces for...